Attention households that use Acegroup email accounts! You may not receive emails from the school district due to your email settings having the district email accounts "blacklisted." What does this mean? When you log into your Acegroup email account on the computer, you will see underneath your folders the word "filters." If you go to the filters, you will see "whitelisted" and "blacklisted." The emails that the district send from may be in your "blacklisted" group. You must move the email to the "whitelisted" group. You may have to look through the pages to find the district email accounts. If you need assistance, please call your provider, AcenTek, at (507) 896-3192. The district uses two tools for communications. So, you may receive some communications but not all. An email was sent to parents and guardians yesterday from
messenger@lacrescenthokahmn.mg.infinitecamp
. The other email that we send from is
noreply@isd300.k12.mn.us
. For any questions or to ensure your notification preferences are set correctly, please contact the District Office at 507-895-5051.
Please join us as we work to create the "Profile of a Lancer"! Wednesday, December 14, 2022 6:00-7:30pm Secondary School Cafeteria This event seeks input from the La Crescent-Hokah Lancer community on what SKILLS and MINDSETS they feel that our students need to develop as the District prepares them for our ever-changing world. It is critical to have voices and representation from as many sectors of our community as possible. We hope to gain insights from our tax-payers, families, business owners, employers, and citizens to learn what they want instilled in our students as we prepare them to be members of society. This input will be used as the District works to create the "Profile of a Lancer" and that will guide the upcoming strategic planning process. The "Profile of a Lancer" will also be used to help inform changes to policies, procedures, and practices as needed.

The La Crescent-Hokah Choirs, along with the Apple Annies, are at Rotary Light tonight at 7!

Middle School is hosting a Scholastic Book Fair in the media center now through December 7th. It is open from 7:30 - 3:30.

Our partner, Teachers On Call, is hiring substitutes in our school district! It's a great fit for college students. Are you looking for flexible, meaningful work with no nights or weekends?! Are you just about to graduate and looking for work in your transition? You don't need to have an education degree to work with us or be an education major--you just have to want to work with kids and make a difference! Maybe you are an education major though or are just about to graduate as an education major and receive your teaching license -- this would be the absolute perfect opportunity for you to begin networking in various schools in your community to prepare you for full-time employment in the future! Apply now:
https://www.teachersoncall.com/talent/apply-now
Contact Jillian if you have any questions at 952-905-3566 or
Jillian.rowe@teachersoncall.com
You can even schedule a meeting with this link:
https://calendly.com/jilr608/let-chat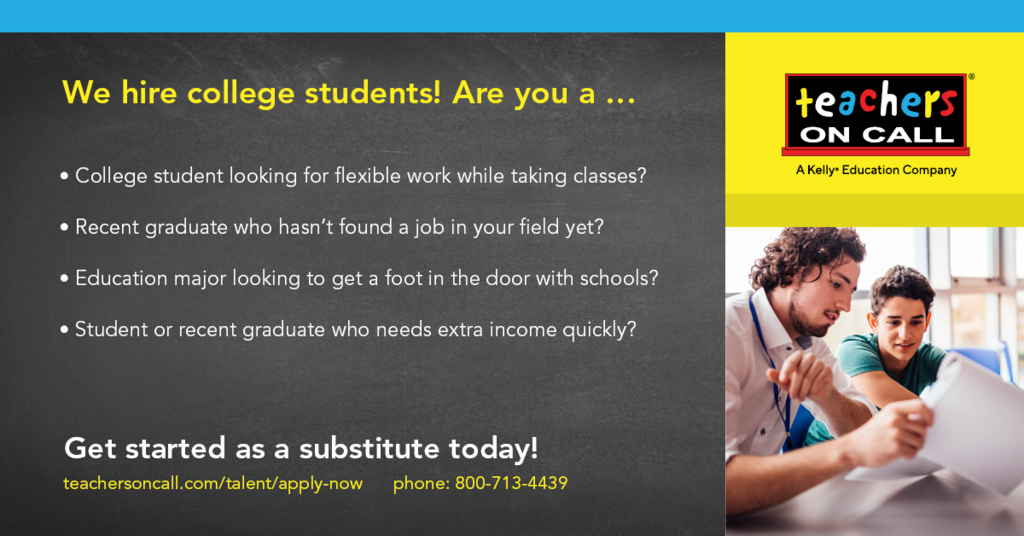 Want to spread some holiday cheer by singing loud for all to hear? Then come see Elf Jr. presented by La Crescent Middle School. This show is running: Saturday at 7:30 PM Sunday at 2 PM Tickets are $5 and can be purchased at the door.

Want to listen to some great holiday music from our amazing choirs? Then come to the Fine Arts Center at 7:00 pm on Sunday the 18th. Bring your holiday cheer and support the La Crescent Choirs for an amazing concert!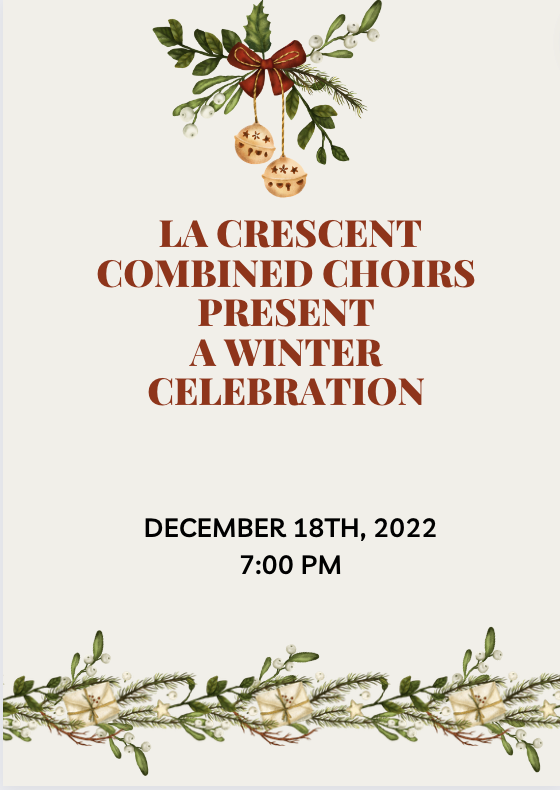 Students in Mr. Vinzant's 8th Grade Health Class were nominated/voted by their peers as being outstanding leaders. 8th Grade health is a leadership course, using a curriculum called LEAD EM' UP. Congratulations on your nominations, students! Pictured left to right: Austin Hill, Quinn Jorgenson, and Nathan Boettcher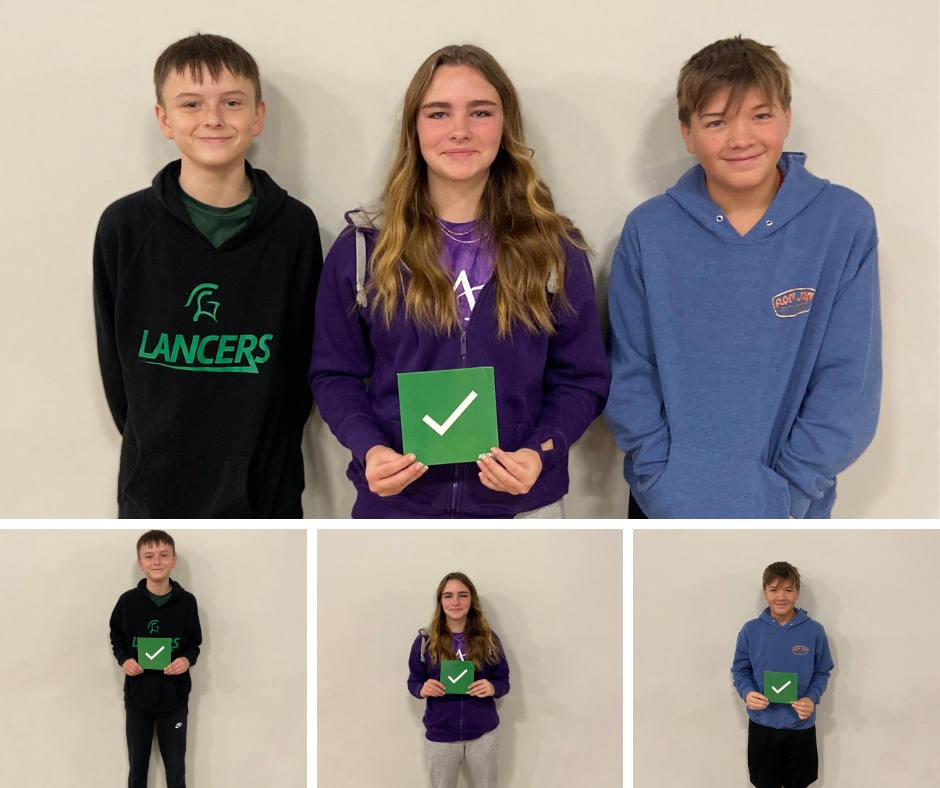 Look at the amazing work the students in Mr. Kaatz's Commercial Construction course did! Antonio Brown, Emma Mades, Theodore Rosendalh, Alex Von Arx, and Ron White made this beautiful privacy shelf for the Middle School office. Thank you students, we have already received several compliments.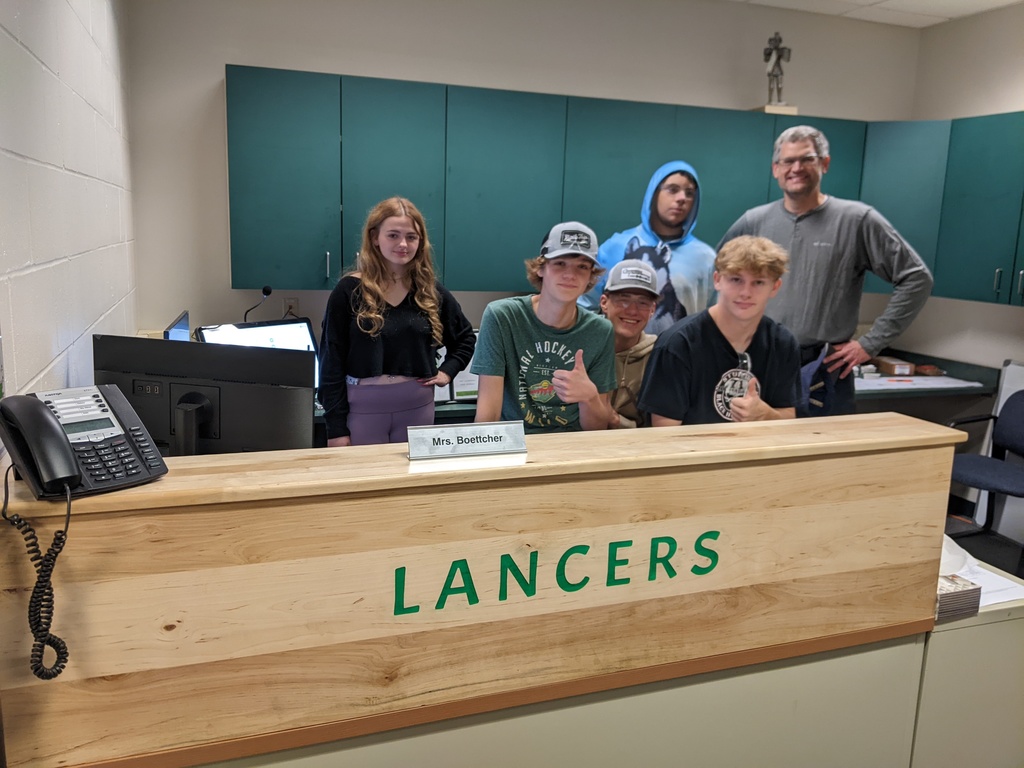 Mrs. Johnson's 6th grade class took some time this morning cleaning up the playground of trash and debris. Thanks students for helping keep our playground safe and clean.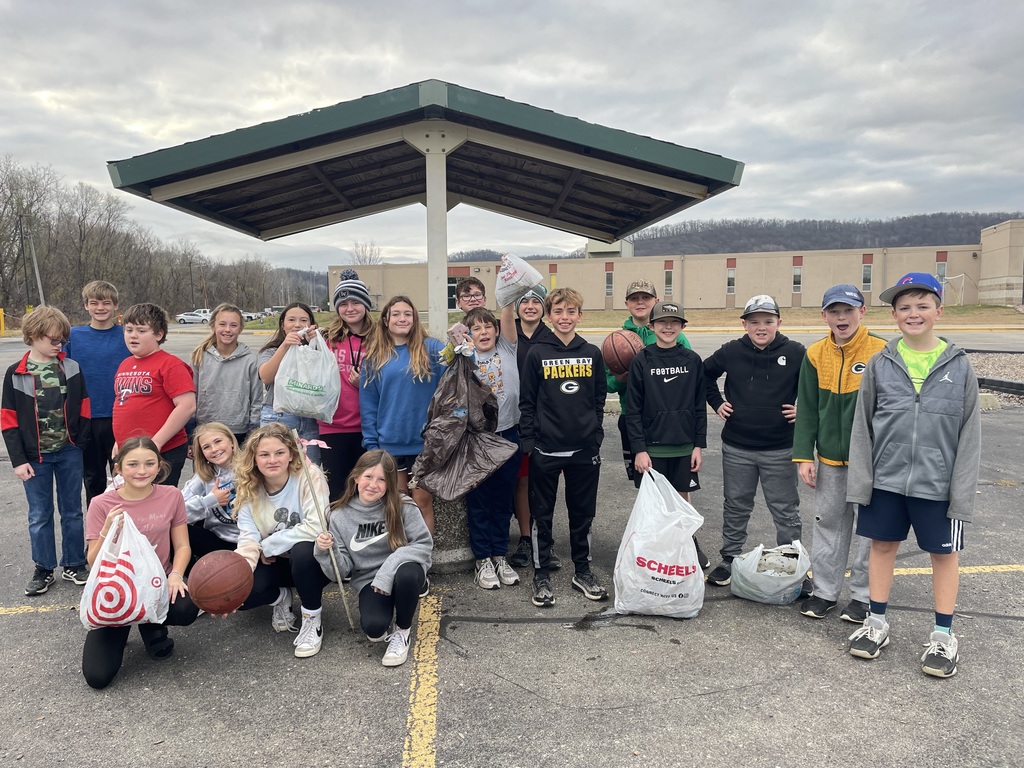 Staff from Wieser Brother's visited the Manufacturing and Welding II class to teach about Stick Welding. Thank you for visiting!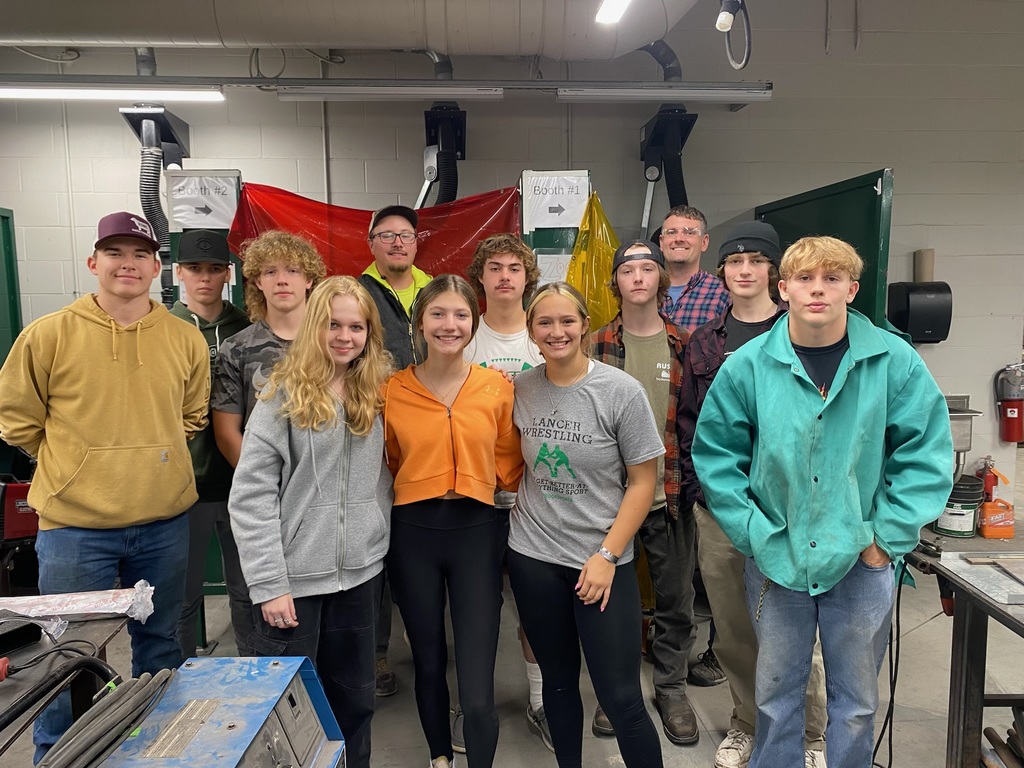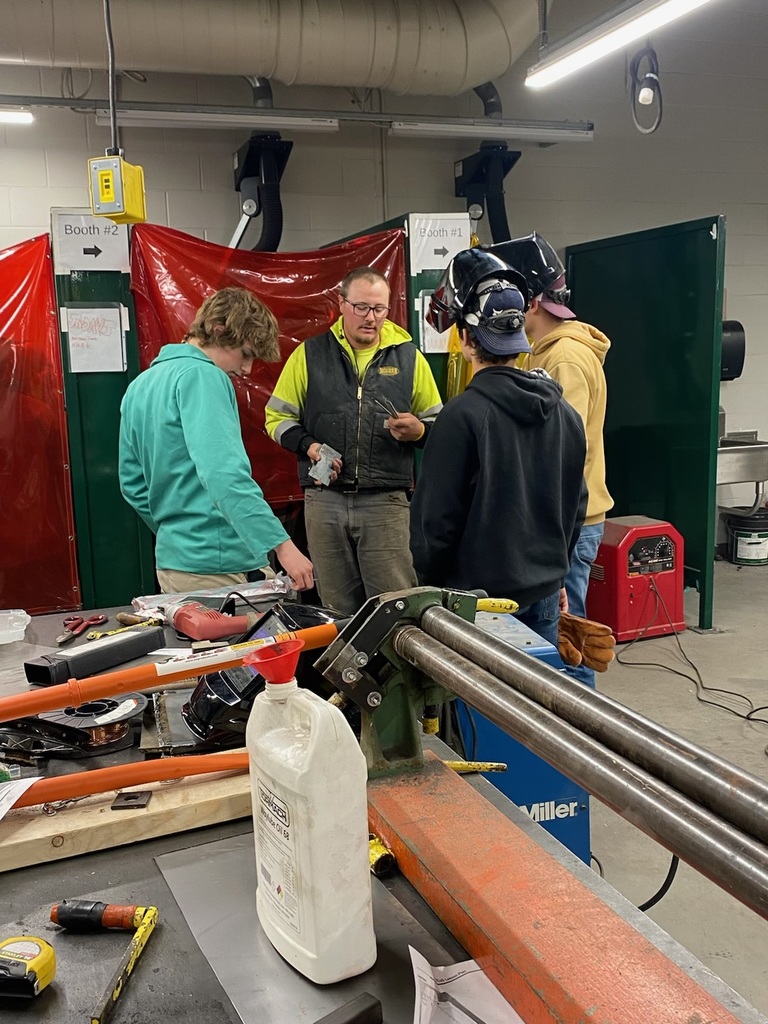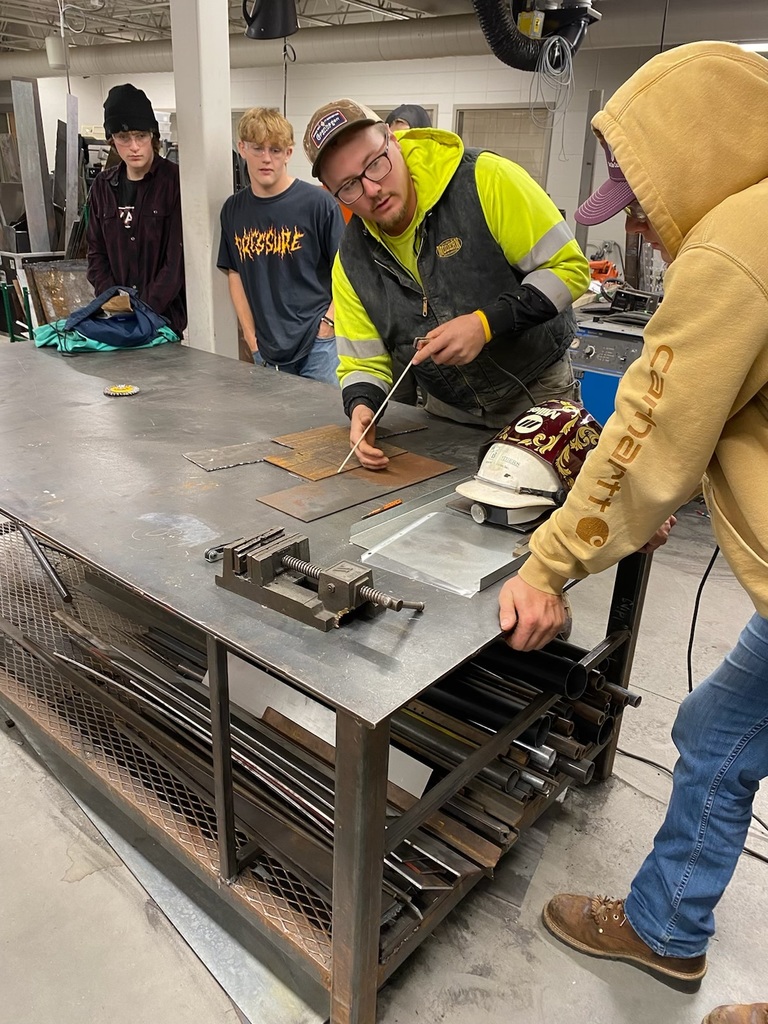 October Middle School Students of the Month are from left to right: 8th grade, Jonah Christensen; 7th grade, Henry Martin; 6th grade, Sam Rislov, 5th grade, Oliver Hutchinson. Congratulations students!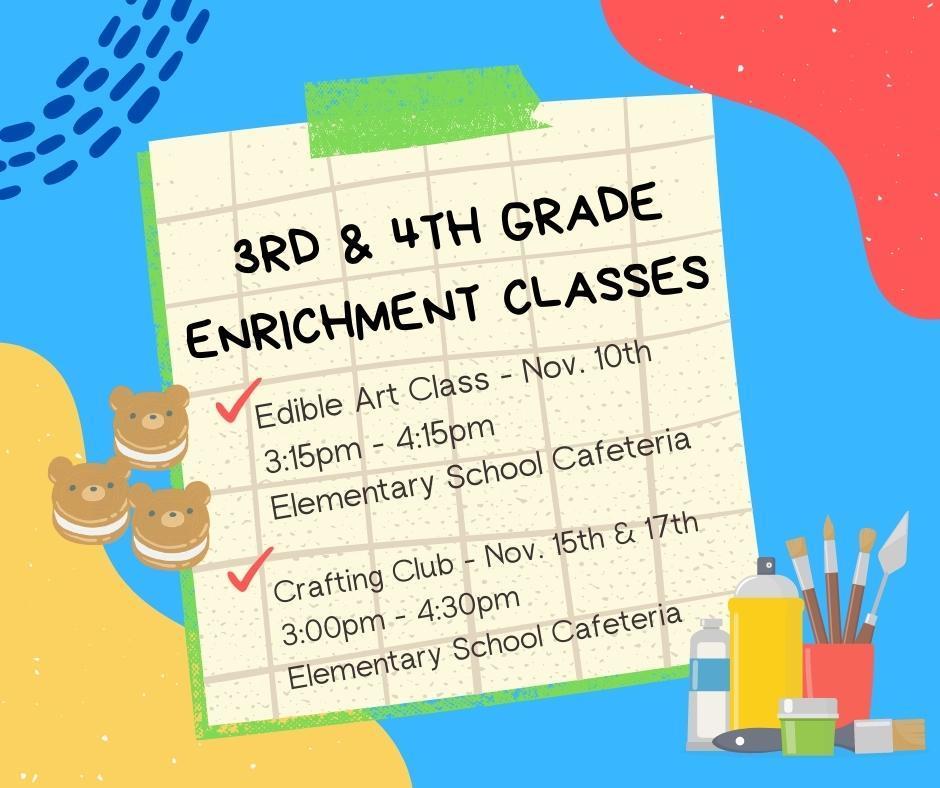 Marketing class decorated pumpkins as an outreach to our local businesses.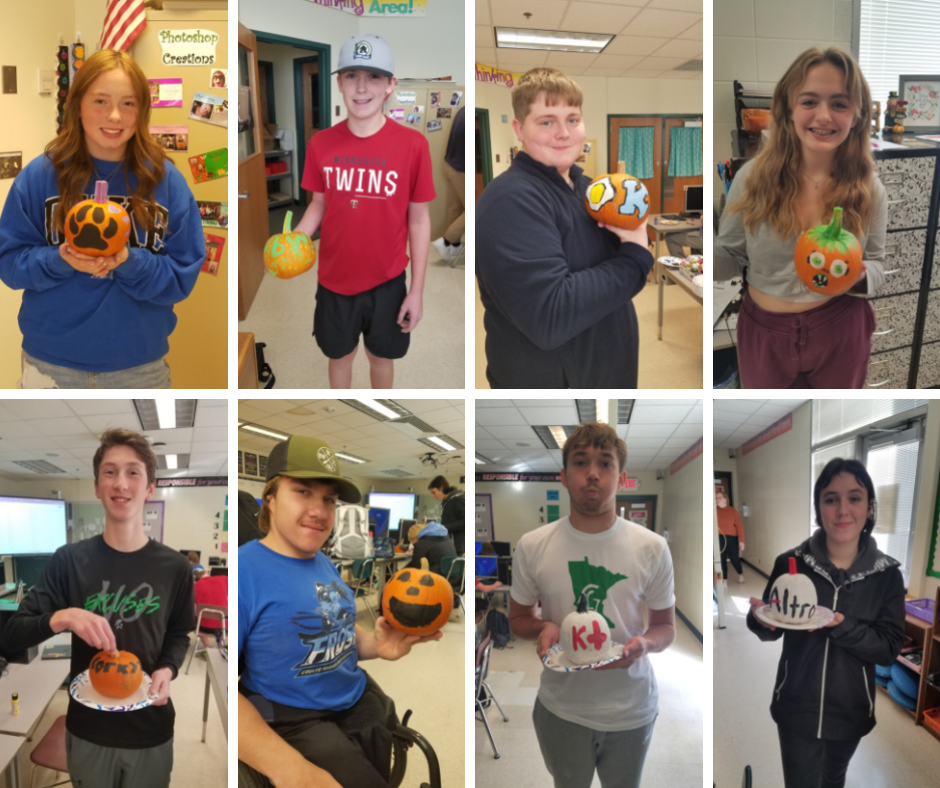 Altra holds a recognition program for teachers where individuals can send in nominations identifying how a teacher made a difference for them. Mr. Colby was nominated along with many other teachers and was one of a few selected. Congratulations!

Hello, La Crescent-Hokah School District Community! My name is Brittney Eyman, and I am the Yearbook Advisor for the 2022-23 school year. I have worked at La Crescent-Hokah Public Schools in the District Office since the winter of 2018. A few of my responsibilities include managing our district website and social media, among many other duties! I am excited to connect and work with students through my new commitments. Yearbook Announcements: We are looking for yearbook staff! The yearbook staff has the opportunity to gain real-world experience while leaving a mark on our school's yearbook! Including, but not limited to, writing, layout/design, artwork, photo editing, computer skills, proofreading, typing, interviewing, photography, sales/marketing, and organization. MS and HS students are encouraged to complete an application available in the MS and HS offices and online by following this link:
https://forms.gle/CwK7nv7hdeAWrEAL7
. Please submit your application by November 4th. We are accepting content and picture submissions now! Please send information via email to
brittney.eyman@isd300.k12.mn.us
. Senior Portraits & Baby/Toddler Pictures are due by 11/8/22. Yearbooks are on sale now! HS: starting at $66 - click the link below to order online
https://www.jostens.com/apps/store/productDetail/1062581/LA-CRESCENT-HIGH-SCHOOL/Yearbook/20220720131547277117/CATALOG_SHOP/Yearbook/20220720131547293117#design/0
MS: starting at $22
https://www.jostens.com/apps/store/productBrowse/1937118/La-Crescent-Middle-School/2023-Yearbook/20220720131528197117/CATALOG_SHOP/
Prices will increase on November 12th!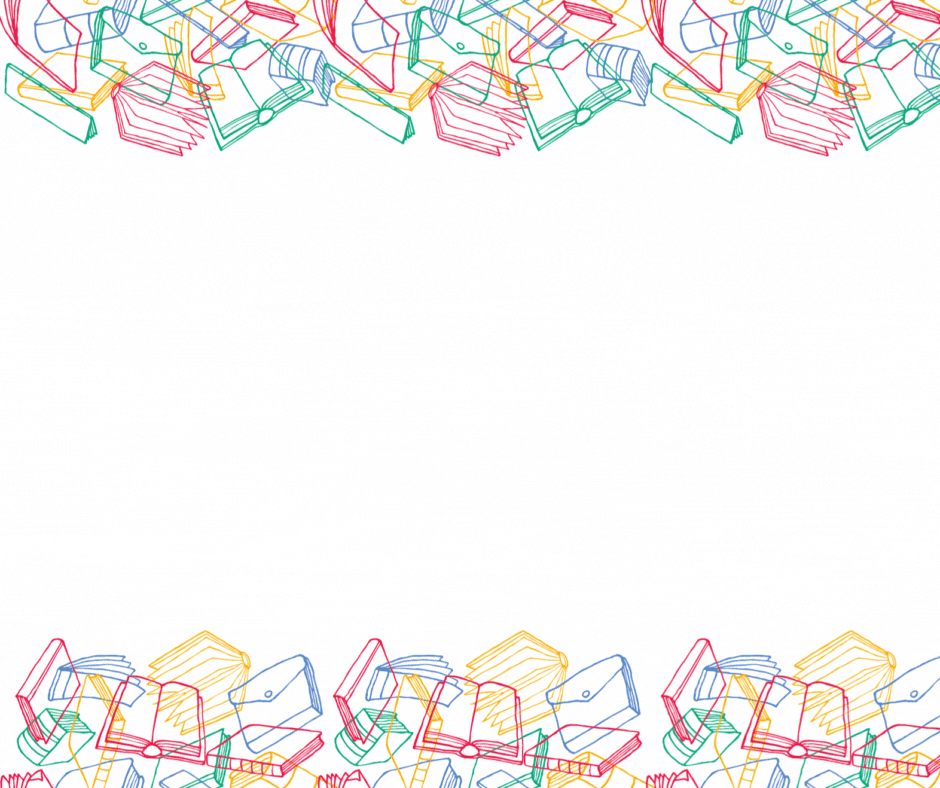 Happy Halloween from Measurement and Blueprint Reading classes!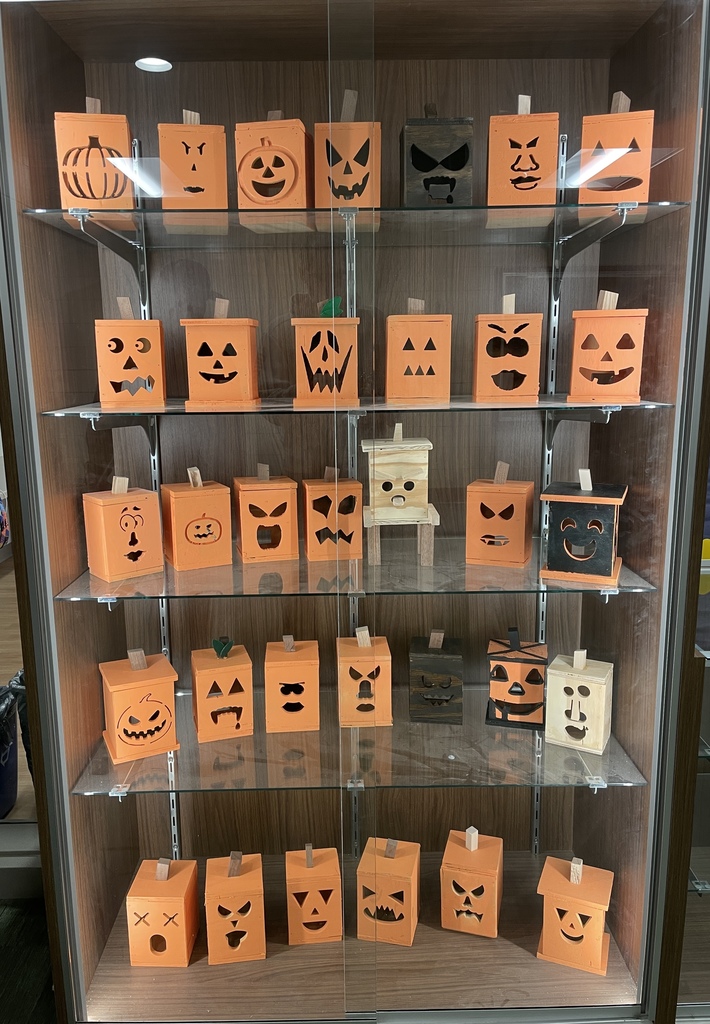 NOTICE OF GENERAL ELECTION INDEPENDENT SCHOOL DISTRICT NO. 300 LA CRESCENT-HOKAH PUBLIC SCHOOLS STATE OF MINNESOTA NOTICE IS HEREBY GIVEN, that the general election has been called and will be held in and for Independent School District No. 300, La Crescent-Hokah Public Schools, State of Minnesota, on Tuesday, the 8th day of November, 2022, for the purpose of electing three school board members for four-year terms. The ballot shall provide as follows: Instructions to Voters: To vote, completely fill in the oval(s) next to your choice(s): School Board Member Vote for Up to Three* Bonnie Martin Nicole Miller Chris Humble Wade Welper Danielle Martell Darcey Cody Christine Meindel-Wagner Sarah Byom write-in, if any write-in, if any write-in, if any The combined polling places for this election and the precincts served by those polling places will be as follows: This will be held in conjunction with the state general election. Any eligible voter residing in the school district may vote at said election at the polling place designated above for the precinct in which he or she resides. The polls for said election will open at 7:00 o'clock a.m. and will close at 8:00 o'clock p.m. on the date of said election. A voter must be registered to vote to be eligible to vote in this election. An unregistered individual may register to vote at the polling place on Election Day.