Lancer families, La Crescent-Hokah Public Schools will provide breakfast and lunch for students daily beginning Monday, January 10th. Parents and students can pick up meals at either location regardless of which school the student attends. If parents have students in various buildings, they can pick them all up at one location. Please note, we will not be packing meals for multiple days. Please call Terri Williams, Food Service Manager, if you have any questions 507-895-5065. Elementary: 8:00 am -10:00 am pickup will be daily at the entrance by the playground (located on S 4th St.). Secondary: 11:00 am - 1:00 pm pickup will be daily at the loading dock door (located between the auditorium and new main entrance). La Crescent-Hokah School Nutrition Office

Dear ISD 300 families and students, In response to the quickly escalating number of Covid-19 related student and staff absences, La Crescent-Hokah Public Schools (Pre-K through 12th grade) will "pause" in-person instruction effective tomorrow, Friday, January 7, 2022, through Friday, January 14, 2022. Tomorrow, Friday, January 7, will be a non-instructional day for students while all staff report to the buildings to prepare for distance learning for Monday, January 10th-Friday, January 14th. Administration considered a shorter amount of time, but ultimately with the health and safety of students and staff in mind, the decision is to "pause" for a full week. During this "pause," there will be no activities, practices, childcare, or outside group facility usage. We are extremely hopeful that this six-day pause will enable us to resume in-person learning and regular activities. Health and safety continue to be our top priority, and we understand the hardship this may place on families. Please continue to report your child(ren)'s symptoms and/or Covid-19 test results to the respective school attendance line (507-895-4484, follow prompts). There will be limited testing appointments available for ANY PreK-12th student (free of charge) at the secondary school location during school hours. Please call the secondary attendance line to check availability and get scheduled. Building and/or grade level communication will follow regarding student expectations for this "pause" time period. We appreciate your continued support. Gary Kuphal, Acting Superintendent Steve Smith, Secondary School Principal Josh Mallicoat, Secondary School Assistant Principal/Activities Director Jeff Copp, Elementary School Principal Beth Theede, Community Education Director

We're looking for 2022 Kindergarteners! Are you planning to send your child to La Crescent-Hokah Elementary in the Fall of 2022? OR do you have other plans for your child's education? Either way, we want to ensure we provide you with the best customer service we can, so we need your help. Please let us know your plans for your child for Kindergarten in Fall 2022. Follow the link to complete a very brief survey:
https://forms.gle/Fg7hwvzpPyEZjCRu6
If you're planning to attend L-H Elementary, we'll use this information to make sure you know everything you need to know about registration. If you plan to attend elsewhere, we'll use the information ONLY to ensure we do not frustrate you with repeated contacts. We thank you sincerely for your assistance.

Effective immediately, masking is only required during student hours (7:50 AM - 3:00 PM) at the Secondary School building and is recommended during all other times. Please note that while on buses, masking is still federally mandated. There are no masking changes at the Elementary School. La Crescent-Hokah School District Administration

Sunday, December 19 - Band Concerts Due to CDC recommendations, our band concerts this weekend will be for family members and very close friends of our performers' families. We regret this restriction and hope to be able to open this up to the general public in the spring. All guests are asked to wear a mask and maintain social distance. 1 PM - 5th grade 2 PM - 6th grade 3 PM - 7th grade 4 PM - 8th grade 5 PM - HS Lancer Band 6 PM - HS Concert Band
Wednesday 12/15/21: ALL ISD 300 District buildings will close at 5:30pm this evening. The School Board Meeting has been postponed to next Wednesday at 6:00PM (Please note the one hour earlier start time.) Stay safe in this evening's predicted unprecedented December weather.

NOTICE: EARLY RELEASE TODAY Due to today's impending winter storm, La Crescent-Hokah Public Schools will have an early release at 12:50 pm at the Elementary School and 1:00 pm at the Secondary School. All after-school activities, including practices and Kid's Company, are canceled. Enjoy a safe snow holiday!

Thank you, Ms. Tornow, for creating this beautiful book tree for the Secondary School Media Center!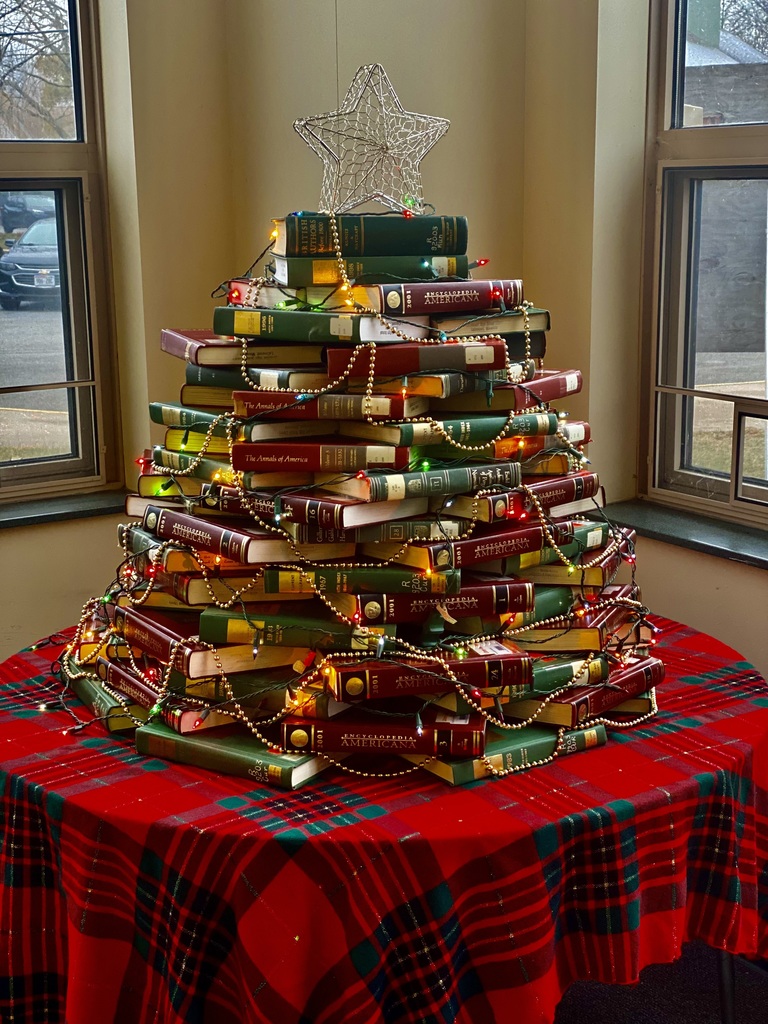 Meeting Notice: Round Table Discussion on Student Behavior School Board of Independent School District #300 Due to conflict, the previously scheduled meeting on December 1, 2021, has been changed to Wednesday, December 8, 2021, at 6:00 PM. The La Crescent-Hokah Board of Education will be meeting in the Secondary School Cafeteria at 1301 Lancer Blvd., La Crescent, MN 55947, for a round table discussion on student behavior. For additional information regarding board meetings, please contact Brittney Eyman, Administrative Assistant, at 507-895-5051 or email at
brittney.eyman@isd300.k12.mn.us
.

Students in AP Stats put theory into practice with a blind taste test project! Using what they've learned about experimental designs, students paired up name-brand and off-brand food items and assessed whether doing the taste test "blind" or not blind had an effect on which item was preferred. This included different brands of soda, cereal, crackers, cookies, and gummy bears!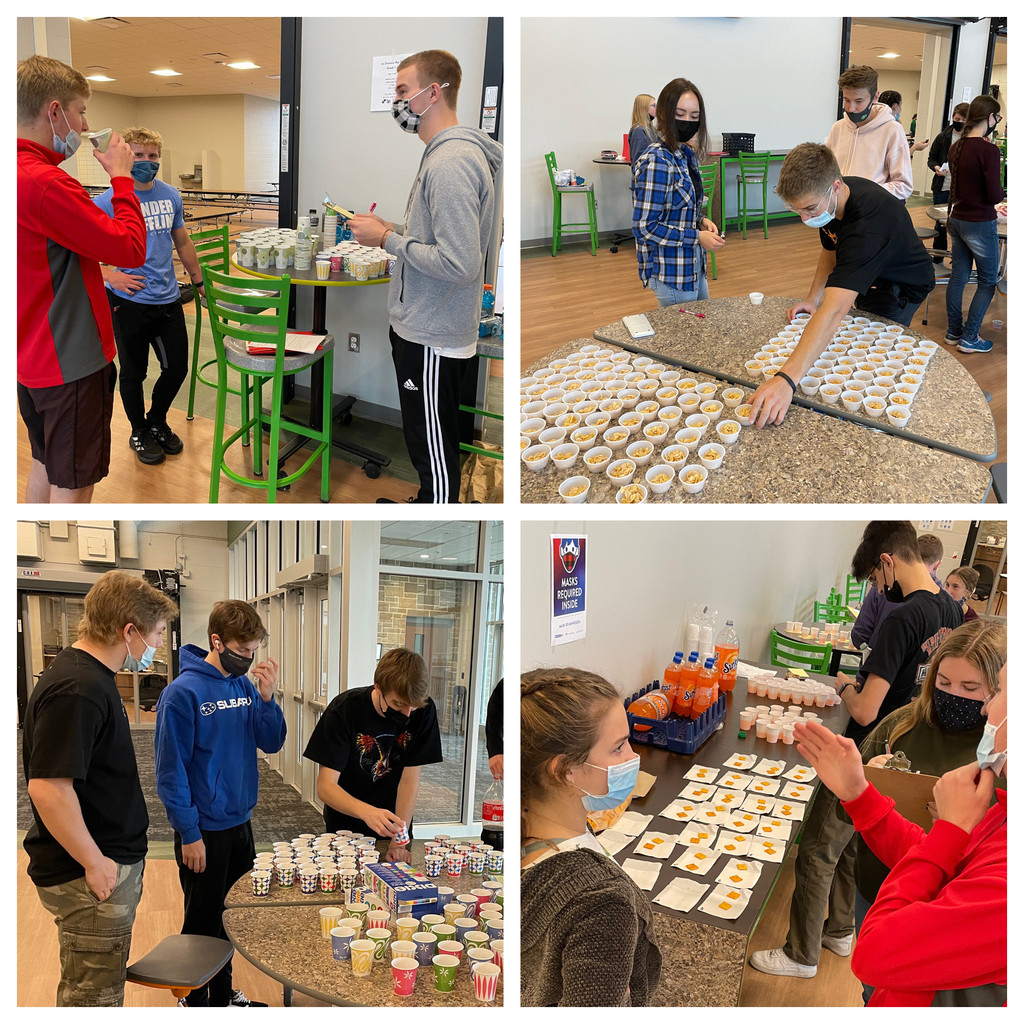 Last night, the La Crescent Lions Club held a dinner to celebrate their Peace Poster Contest. There were 64 total entries, and the winners were selected by Mr. Phil Addis, local photographer. All of the entries were amazing with so much detail! The theme was "We Are All Connected." Pictured are the La Crescent-Hokah Middle School winners Aspen Tarrence, Mady Dontje, and Mya Timm with art teacher Nicole Greener.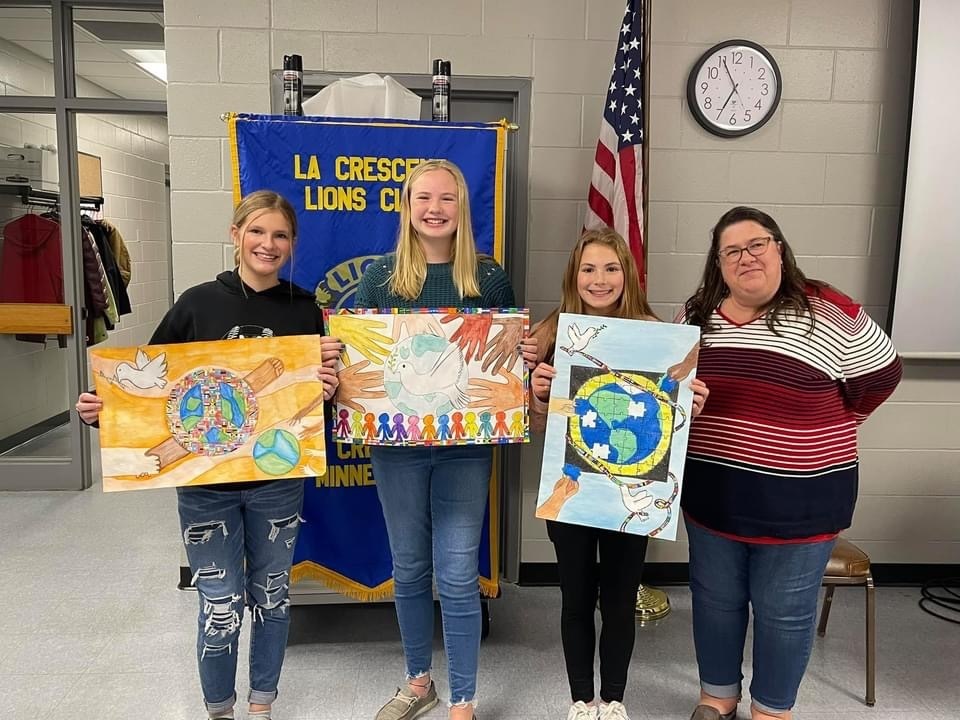 The 5th graders participated in the 1st ever "Call to Earth Day" by cleaning up the ditch. Mrs. Johnson's advisory also cleaned up the playground this morning as well.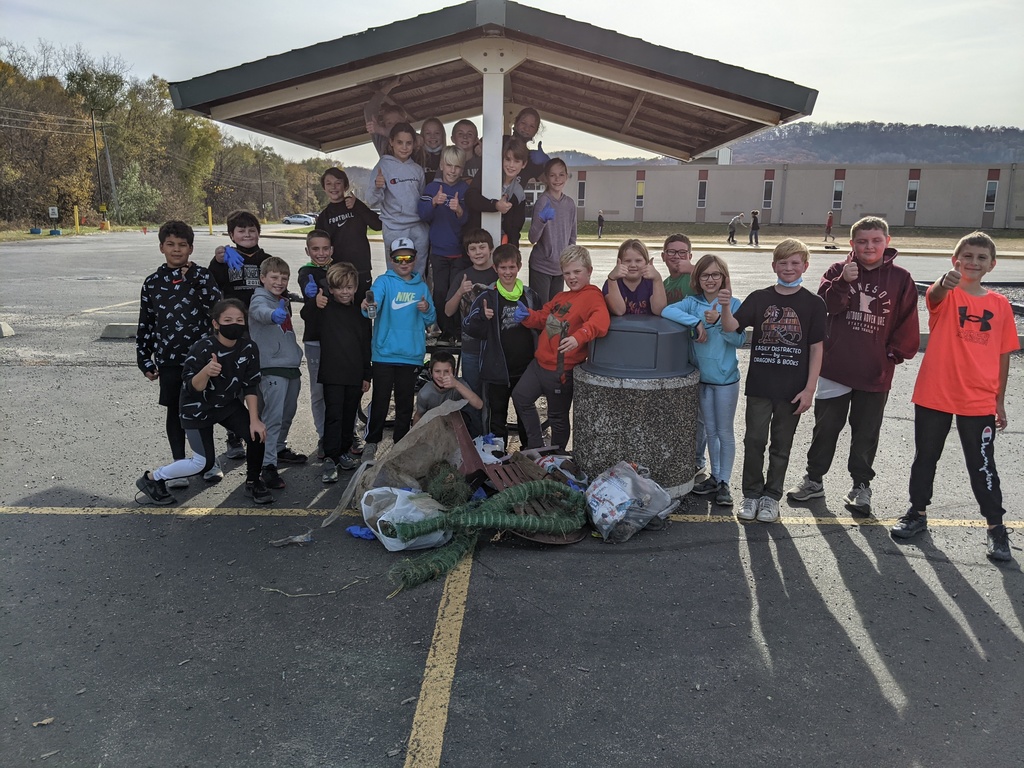 Certified staff received their Union apparel that they were able to purchase through an OFS grand they earned and wore it last Friday to show their support and solidarity for one another and for their negotiators for the work they did.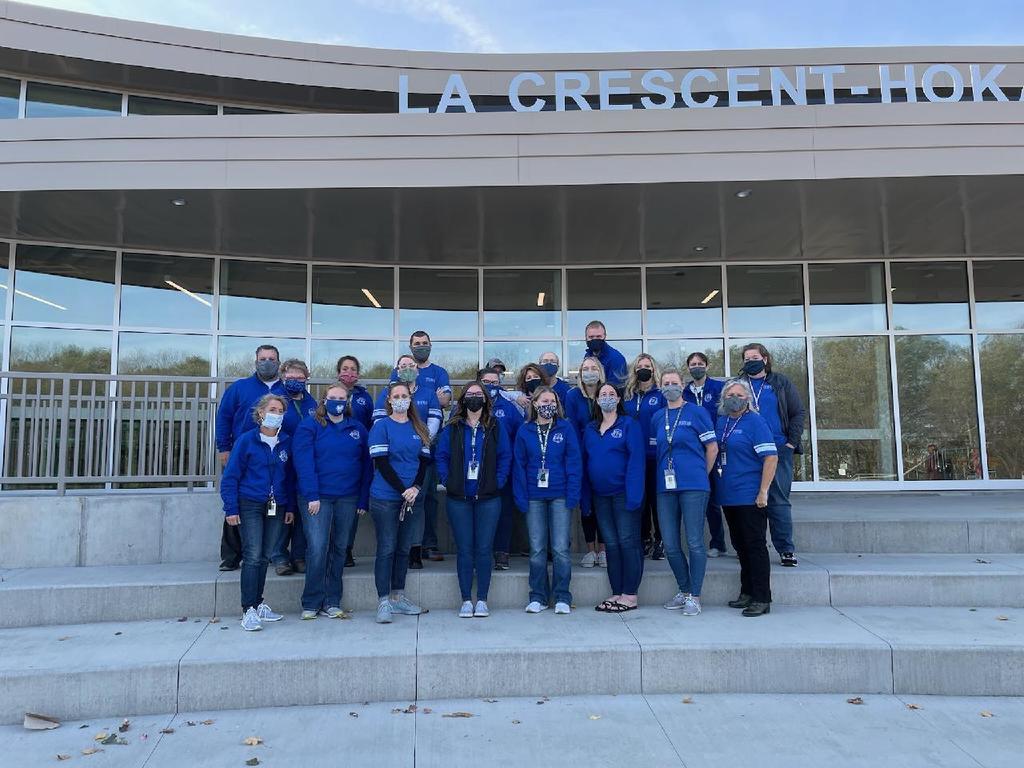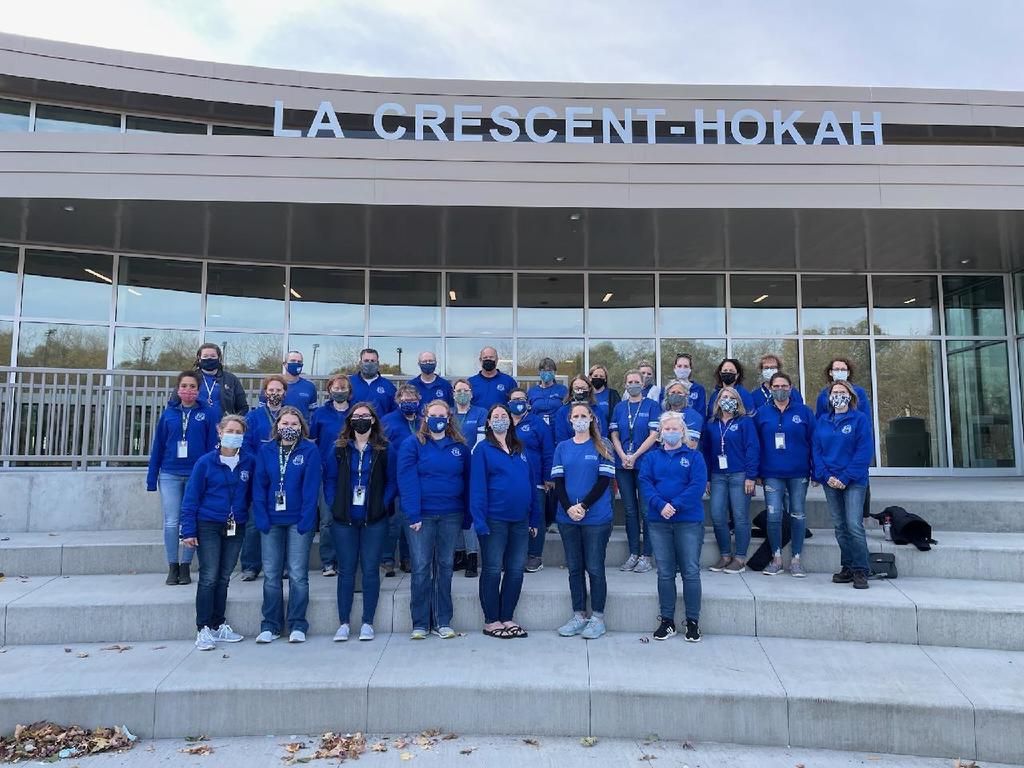 Notice: The emergency School Board meeting scheduled for tonight has been canceled.

La Crescent Middle School presents.... Singin' in the Rain Jr. Saturday, Nov. 6 @ 7:30pm Sunday, Nov. 7 @ 2:30pm La Crescent Fine Arts Center Tickets $5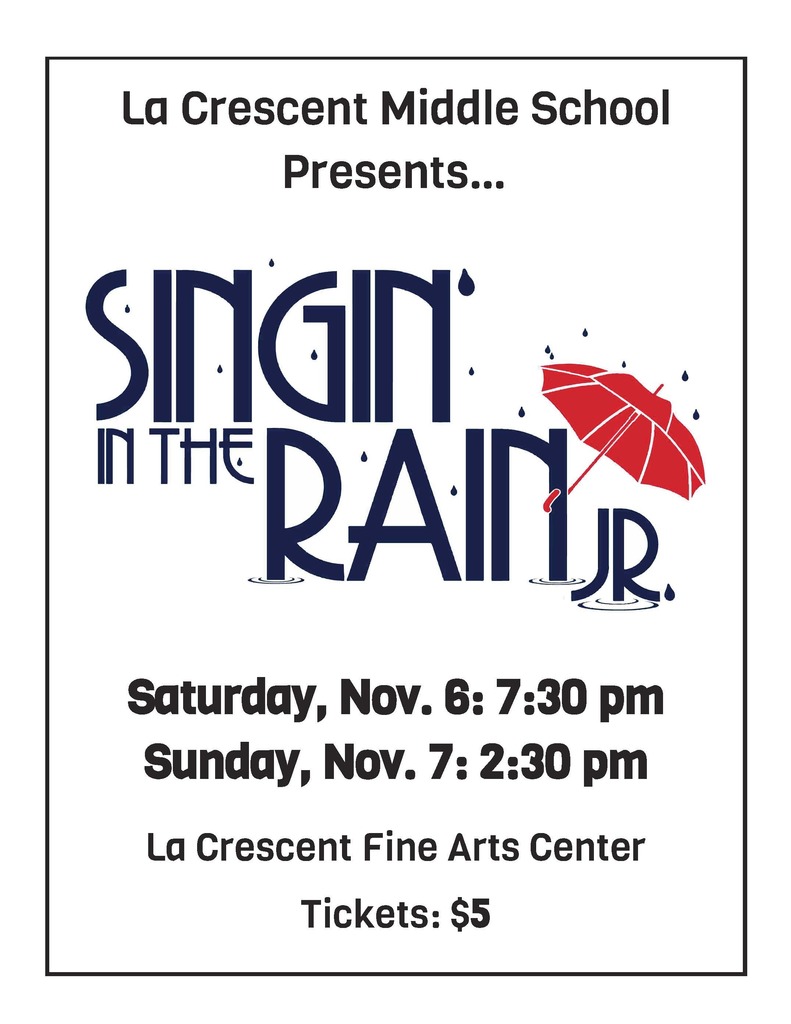 Happy Minnesota Principals Week to our dedicated building leaders! Thank you for all you do for our Lancers, Mr. Copp, Mr. Smith, & Mr. Mallicoat! #ThankAPrincipal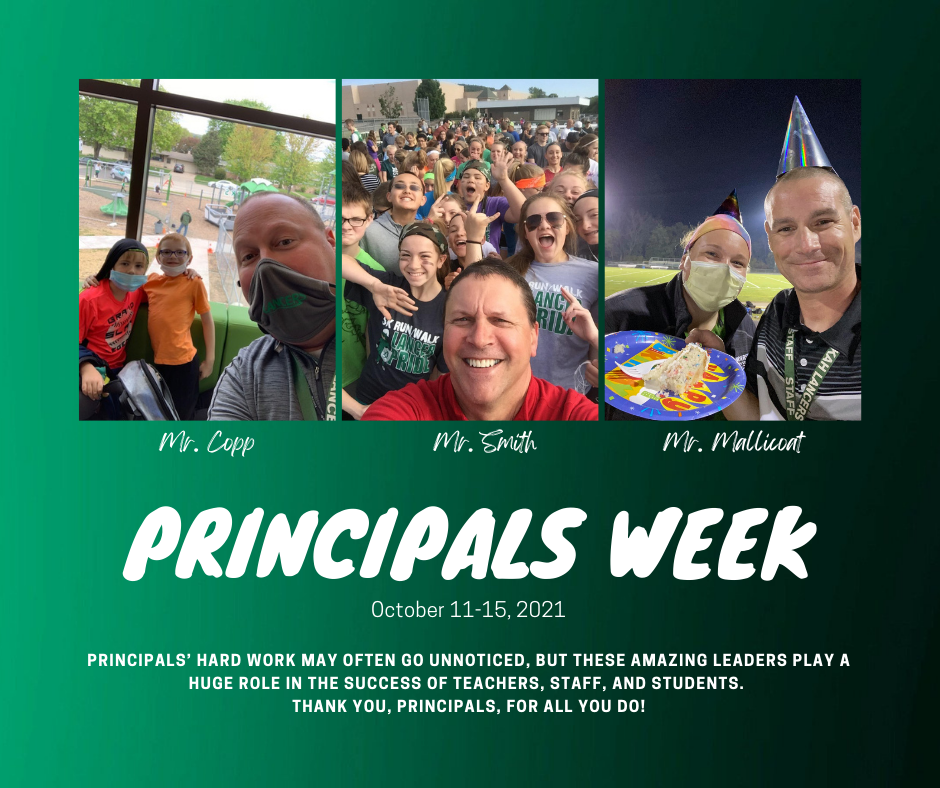 Happy National Coaches Day to our coaches! Be sure to thank a coach today!!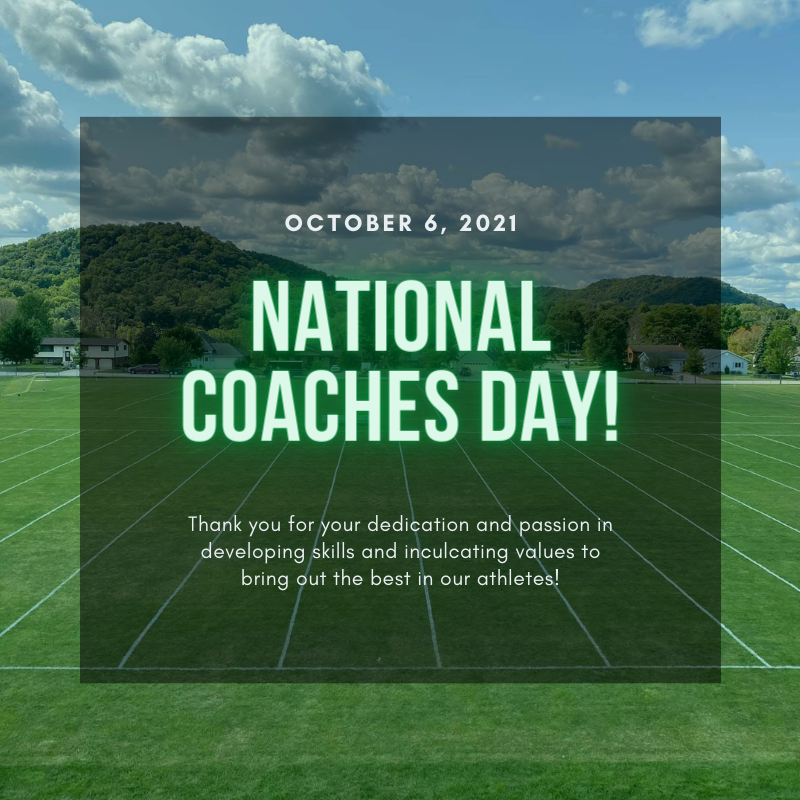 Have you seen the new commons area at the Secondary School yet?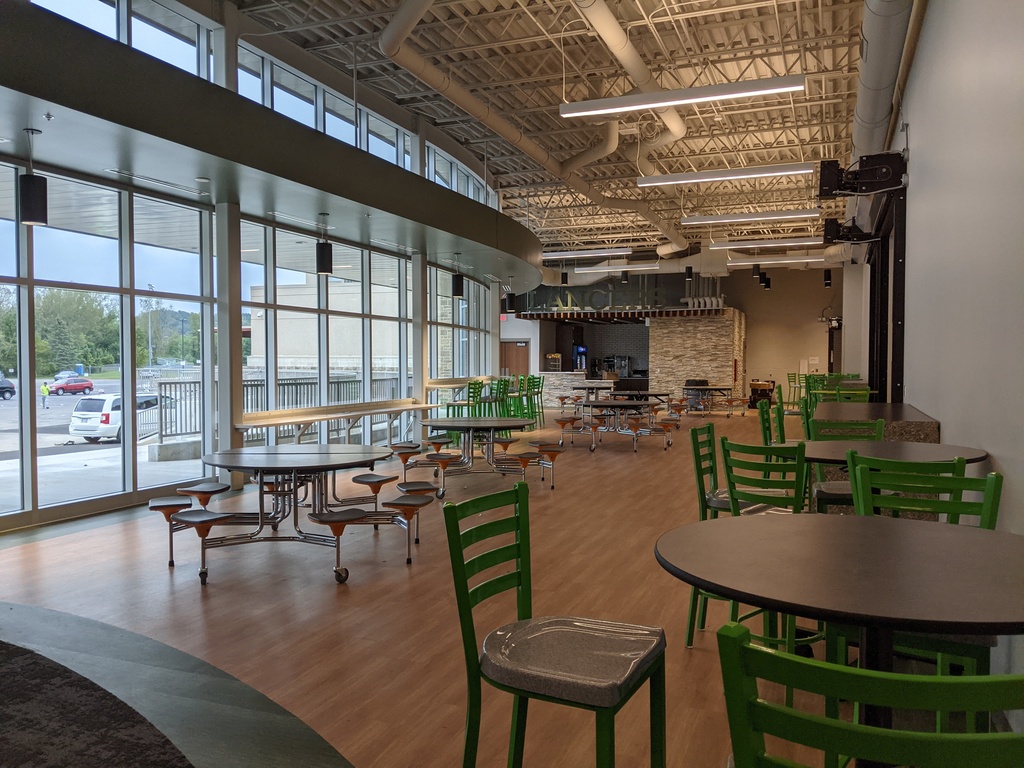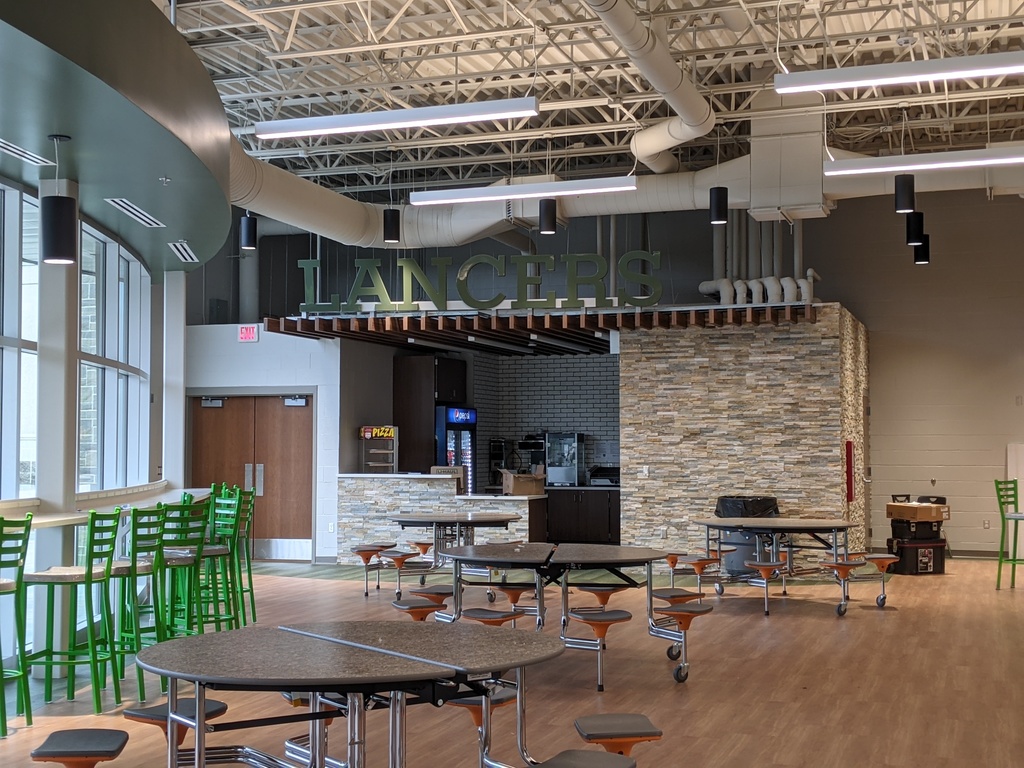 Ms. Stumpf's 1st grade class made "getting to know you" flowers!